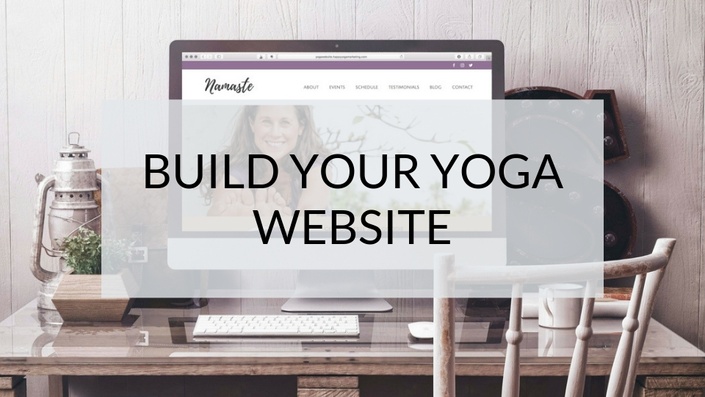 BUILD YOUR YOGA WEBSITE
A step-by-step blueprint for yoga teachers to create a gorgeous website.
Enroll in Course
What if you could build a beautiful website yourself, without having to pay a designer or developer? Create an online home that attracts droves of new students to your classes and workshops and increases your income like whoa?
Here's a secret: you can!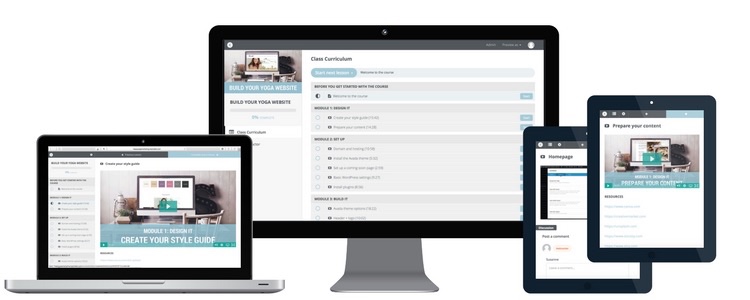 Build Your Yoga Website is an interactive video based online course, teaching you step-by-step how to create a beautiful WordPress website specifically designed for yoga teachers.
You don't have to be a tech geek or know how to code. Simply follow the step-by-step instructions and you can build your own gorgeous website in a matter of days.
Get ready to have a website that works – meaning more interest in your workshops and retreats, more clients and more sales!
THE YOGA WEBSITE TEMPLATE
This is not a course where you're told some general stuff and then left alone figuring out the details. I created a beautiful yoga website template and I'm teaching you step-by-step how to build this website and customize it with YOUR colors, fonts and content.
The template for Build Your Yoga Website has been tested and specifically designed for yoga teachers. Everything about it is intentional. It's been designed from the ground up with YOU in mind!
Everything is entirely customizable and brandable! And it's all on the most popular, affordable and easy to use platform in the world - WordPress.
The best part? No coding, Photoshop or complicated software required! It doesn't matter if you already have a website or start totally fresh. There's no headache involved, or really any barriers if you know how to use the internet, watch videos and click around. I'm going to hold your hand all the way and make sure you'll succeed.
LET'S HAVE A LOOK AT WHAT YOU'LL LEARN: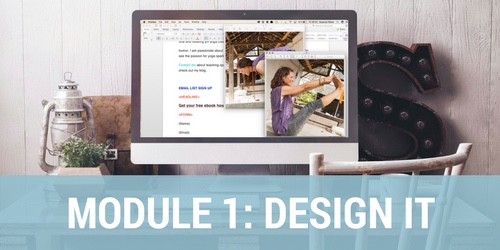 Learn how to choose your colors and fonts (with lots of examples), structure your website content, create your images and write compelling copy. At the end of this module you'll know what the 'look and feel' of your yoga biz is and how to infuse it throughout your website.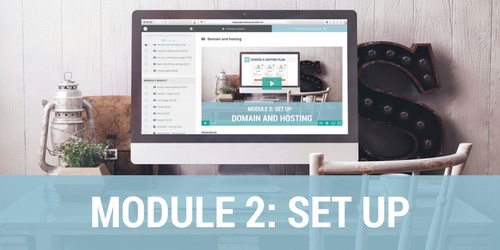 I'll show you how to choose your domain and hosting package, set up WordPress and install the Avada theme. Already have a website? Learn how to create a subdomain that you can use to develop your new website, while your existing website stays live until you're ready to switch.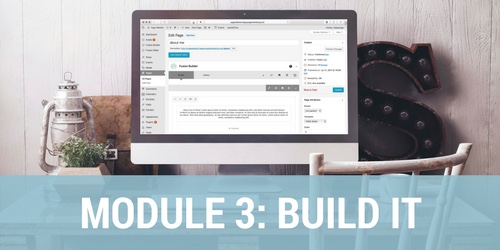 Follow my step-by-step instructions on how to actually build your website page by page. Lessons cover the header, footer, homepage, about page, schedule (including connecting to Google calendar), events, testimonials, blog, contact and privacy. You'll learn how to use the easy drag-and-drop page builder and how to customize your website and make it YOURS.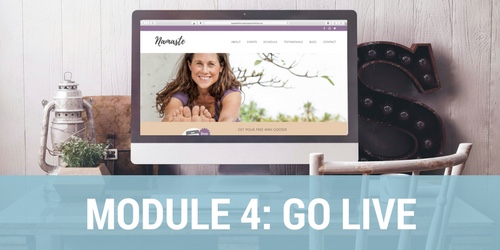 Ready to share your beautiful website with the world? I'll talk you through all the steps needed to go live with your new website and how to keep it up to date and safe.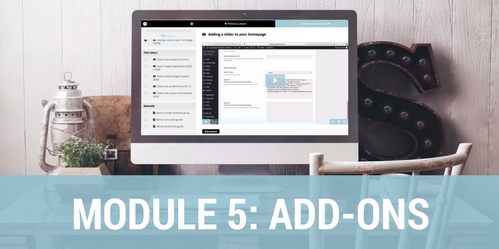 It never stops! I'll continuously add new lessons to the course that teach you how to add more features, such as sliders, a shop (coming soon), studio pages (coming soon) and more!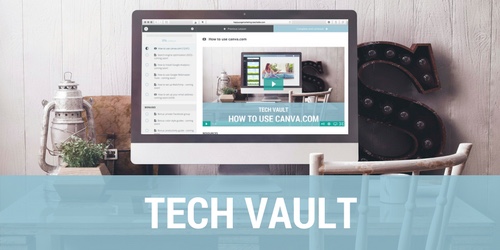 There's no place for tech-overwhelm! In the tech vault, you'll find a range of video guides on how to create professional looking images, get started with Mailchimp, install Google Analytics and set up your domain email address. The best? Everything's explained for non-techies and easy to follow.
Not included are the Avada WordPress theme ($60), your domain and hosting (from $3.95 per month with Siteground). You'll need to invest in these together with the course to build your website.
DON'T MISS OUT ON THESE BONUSES:
Free updates to the course: I'll regularly check the course to see if there's anything I need to update or add. You always will have access to the most up-to-date information.

Productivity Guide: An eBook full of tricks and tools how to organize your business effectively and be more productive.
Support & feedback in our private Facebook group where you can pose questions and comments. I'll be there to answer all your questions and make sure you succeed.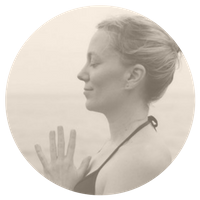 "I can only recommend Susanne and her course "Build your own Yoga Website" - I had mine finished in less than 20 days and I absolutely love it! I had already done and worked a lot on setting up my own websites before but it was always a hassle and often ended in frustrating results - not this time though! The course is well structured, easy to understand even if you do not have any experience and Susanne is very helpful even in matters that exceed the scope of the course. She answered all my questions very quickly and was very encouraging and supportive throughout the whole course. If you finally want your website set up properly go and join Susannes tribe!"
- Daniela Meinl, http://www.integrales-faszien-yoga.de
"I signed up for the Build Your Yoga Website course because I think the website template looked really good and I liked the option of getting talked through everything step by step. I tried building my website with a different theme before, but it was slow and I didn't know how to customize things. Your course was exactly what I was looking for and thanks to your lessons it became so easy & kind of intuitive to work with WordPress. I am really excited about how things are coming together now and I hope to be live with my new website soon!"
- Stefanie Rogge, http://steffiroggebewegt.de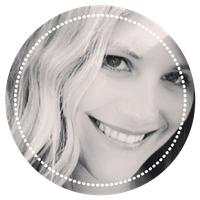 "Susanne knows her stuff. She is not only knowledgeable about digital marketing but knows how to communicate with her clients in an inspirational way. She has a way of putting a positive spin on everything. When she gave me suggestions for improvement on my website they made me feel motivated instead of discouraged. Her advice is always clear and easy to follow. I was able to make many changes on my own site with her guidance. I would highly recommend working with Susanne in as many ways as possible. I truly believe that with her guidance you will flourish. "
- Abby Grajewski, www.journeysofyoga.com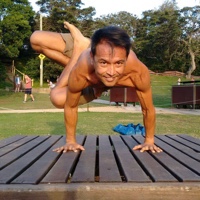 ""I highly recommend Susanne! She helped me put together my website very fast and effectively. As a yoga teacher, I don't have a lot of experience with web stuff and Susanne definitely goes the extra mile to help when I have difficulties with my website, like actually taking time to contact my provider and telling me what to do. Not only does she have strong work ethics, she has so much knowledge. I feel very confident that if you use her services, you will have a top notch experience. You're in good hands!"
- Rusty Davis, www.rustydavisyoga.com
Your Instructor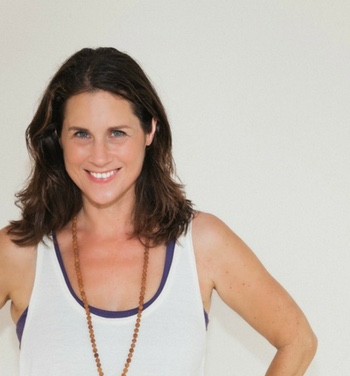 Hi there, I'm Susanne, yoga teacher and digital marketing expert. I teach yoga teachers & spiritual entrepreneurs how to build a thriving online business.
I've been working in digital marketing for over 20 years and I'm honored to say my previous employers and projects include some of the world's most prestigious companies. I have been working on digital projects for clients like Coca-Cola, BMW, Daimler and P&G at agencies like Grey, Tribal DDB and Razorfish to name just a few.
Today I spend most of my time in Bali, balancing my time between yoga, some freelance work and developing my own projects. I manage www.happyyogatravels.com and www.susannerieker.com and I'm excited to be able to combine both of my passions – yoga and marketing.
I'm passionate about supporting yoga teachers on their online journey, using both my expertise and my understanding of the yoga world to help them find their digital marketing dharma.
Namaste, Susanne
LET'S DO THIS! YOU KNOW WHAT YOU WANT:
A website that works
And that helps you attract more students, sell your retreats and grow your business.
Affordable and fast
You don't have time or money to waste. Save the cost for a website developer and get your website live fast.
Drool-worthy design
An amazing looking website that's professional & beautiful, without hiring an expensive designer.
If you know your student numbers are suffering because your website is simply not working (or non-existent), you've been feeling overwhelmed about knowing where to start, and you are prepared to roll up your sleeves and build your own website – this course is for you.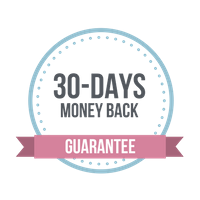 30 DAYS MONEY BACK GUARANTEE
The Build Your Yoga Website course includes everything you'll need to build your own website in just a few days. I'm confident you'll LOVE this course, too. But if for some reason you don't, then I'll gladly give you a full refund within 30 days.
Frequently Asked Questions
Is this course only for yoga teachers?
The topics taught in this course are totally relevant and valuable for all spiritual entrepreneurs, but the content on the yoga website template has been developed specifically with yoga teachers in mind. This doesn't mean that you couldn't adapt it to a different topic though.
Can I change the colors and fonts?
Definitely! With WordPress and the Avada theme, you can change all of the colors, fonts, and styling with ease. I'll also show you how to create your own graphics using free tools!
Can I delete pages or add more pages to my website?
Yes! After you've learned how to use the drag-and-drop builder and created your first pages, you'll know how to add more easily. And if you don't need a page, you simply leave it out.
Do I have to use WordPress?
This training covers building a WordPress website. Every single lesson is based on doing this within WordPress. So, I would have to say yes, you'll need WordPress.org and your own hosting.
Are you sure I won't get confused or overwhelmed?
Pinky swears! I'll show you step-by-step how to build your website, for example signing up with a hosting company, installing WordPress, creating all the pages you need… Everything's been developed with beginners in mind. The strategy I recommend: watch a little video, pause, do it on your backend, get excited by seeing your progress, and repeat.
What types of tools & services do I need to buy?
You'll need to buy the Avada WordPress theme from Themeforest. It's a one-time fee of $60. You'll also need your own domain and hosting package. Prices start at around $4 monthly. You don't need Photoshop or any other premium tools. I sometimes recommend apps and tools that could make your life easier, but they are always optional.
How will I access the course?
To access the course you will log into a membership site where you can follow along with the video lessons and download the attached files.
How long do I have access to the course?
You'll have access to the course forever. I'll regularly check the course to see if there's anything I can add or need to update for a minimum of 12 months.
Do you offer any refunds or guarantees?
Of course! I'll offer a full refund, no questions asked, within 30 days after purchase. Simply send me a message to hello@happyyogamarketing.com and I'll get you sorted.
Please note that VAT (sales tax) will be added to the total price for EU residents.